Tag: New Mexico
by JadeRider on Sep.11, 2009, under 2009, Adventure, Motorcycle
I am so thankful to be able to write today, that the worries about the H1N1 infection did not materialize.  I was feeling crabby yesterday.  I finally made it to the doctor's office in the afternoon.  After she listened to my lungs, checked temperature, and took a sample of my snot to run some tests, she confirmed that swine flu virus was not in me.  Praise His name.
The deadline for shopping for equipment has now passed, with the last bits of equipment and gear now being on their way.  The tire plugging system arrived yesterday in the afternoon.  It contained a very valuable nugget of wisdom.  "Pour liquid over the tire to identify the puncture site by the bubbles.  Be careful not use a carbonated liquid."  Wow!  When looking for bubbles, do not use a bubbly liquid to identify them.  Amazing.  Gotta love it.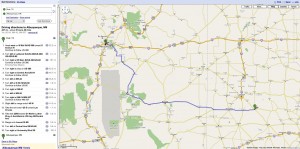 The map for the second day has been set for a while, but it may be subject to last minute changes.  The current map has me going West, through Roswell, NM, and into the Valley of Fires, before turning North to Corona, and North West to Laguna de los Perros and Estancia, and finally into the Albuquerque area, for about 425-460 miles of riding, in about 9 hours.  Roswell is a special place in this route, not because of the whole Alien thing, which I still is cool, but because I stopped here with my daughter when we rode out to drop her off at college a couple of years ago.
Laguna del Perro just sounds like a really cool place, and looking at the landscape photographs on the Internet, it looks like the kind of horizon I really enjoy and brings peace to me.
Today, I want to close by sharing a note I got from a fellow believer in response to my request for prayer during this trip.  Terry, Buddy is lucky to have a person like you in his life.
"Carlos – Know beyond all else that prayers will be lifted up for you each and every day of your trip.  We will also pray for peace for your family to know that God will be protecting you and for your safety while you are apart.
What an adventure!  We know you will go out and and be a glorious witness to our Lord!  Knowing that any trip of this length may bring trials and requires perseverance, remember James 1:2-4, 12:
Consider it pure joy, my brothers, whenever you face trials of many kinds, because you know that the testing of your faith develops perseverance.   Perseverance must finish its work so that you may be mature and complete, not lacking anything.
Blessed is the man who perseveres under trial, because when he has stood the test, he will receive the crown of life that God has promised to those who love him.
Consider each day pure joy!  Remember joy every day!
We will keep you and your family in our prayers."
Leave a Comment
:2009, maps, New Mexico, Texas, V-strom
more...