Tag: Forest
by JadeRider on Sep.03, 2009, under 2009, Adventure, Motorcycle, Uncategorized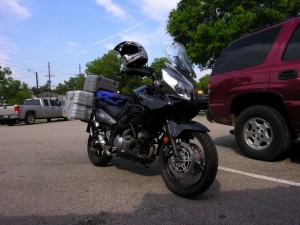 When preparing for long term projects, I always like to have one or two dry runs before the real thing.  It is one of those "I am in control" things that seem to be part of who I am.  Now, I am well aware that in reality I am not the one in control.  Yes, God has given me gifts, and He has given me the opportunity to make choices, but every day, I am at His mercy, and it is only because of His tender grace I am where I am today.
So, it was with joy that I welcomed the opportunity to try out a good number of pieces of gear when Don (DT2.0) invited me to tag along last Saturday, as he planned to take his Wee- out for some riding in the dirt.  I had just received the final complement of riding cases a few days before that, and I was anxious to see how the Vee with the Gobi side cases and the KTM (aka Gobi with an orange patch over the Hepco-Becker logo) would handle.
Friday night, I prepped the V-Strom.  I hooked up the GPS wires, made sure the chain had just enough slack, checked my tools and rain suit, adjusted the screen height, and also charged the camera batteries.  We were supposed to take lunch with us, but being a bum I forgot to actually look for real food before driving home from work.  I ended digging up an old bag of dried apricots from the trip to the Ozarks, the remains of a bag of corn-nuts from the trip to Galveston a few weeks ago, and a bottle of water.  Oh, yea, and there was another half bottle of water in the bottom of one of the cases.  So much for being meticulous, and in control, eh?
Saturday morning saw me getting up early to finish getting ready.  I put on my favorite riding pants; a set of black, white, and brown digs, with half of Thor's helmeted head embossed on each head.  My old riding boots were added for good measure, and my jacket, with the painting of the blood of the Lamb in the shape of a cross on the back.  This was also the day when the new off-road helmet, the one selected of the up-coming trip, would be put to the test at high-way speeds.  I already knew that the gray and white helmet, with a visor and a wide face opening would be great at low speeds.  The question was, how would my neck feel with air flow driven lift on the visor?
DT2.0 showed up (sort of) on time, and we rode off on what felt more like an autumn morning.  A cool breeze, and a slightly overcast sky made for great riding.  Not being the kind that likes interstates, we rode to Montgomery, TX, via 290 to Telge Road.  From there, it was all back-roads, through Tomball, and up FM 149, one of my favorite hilly, and twisty roads in the Houston area, to Montgomery.  Riding into the town, going North on FM 149, we came across the old King's Cafe.  I knew it had closed its doors, but having been the breakfast spot for many a ride, and a favorite hang-out for bikers, it still disappointed me to see the empty shell.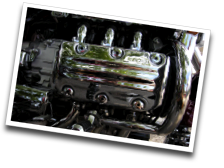 We parked in the back of King's, and wrestled two cups of coffee out of a team of waitresses, and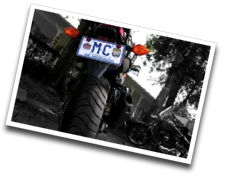 hostesses at a local establishment.  For some reason, they could not figure out why these guys wanted coffee to go.  Like good bikers, we gawked and commented on the rides parked outside.  There was the usual assortment of HD cruisers, and Japaneses wanna be's, with a couple of beautifully painted, fully painted, and painfully stretched choppers, added for good measure.  However, what caught our eye was a couple of Honda Valkyries, with their wonderful six-cylinder engines.  I have always wanted one of these, the definition of a gentle giant, with lots of self evident power, no-nonsense design, and clean lines.  Why Honda decided to drop it from its line still baffles me.  A Yamaha plates from the Principality of Monaco, and stickers from Spain, and Sweden, set-up with upgraded Ohlins suspension, also caught our eye.  However, I could not walk away from the site, without taking a picture of the water spout against a red tin wall.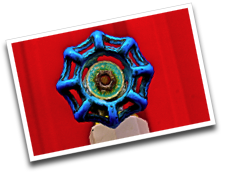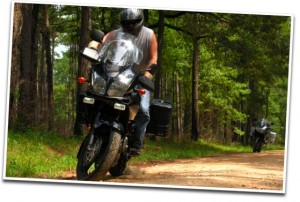 We got on the Stroms again, and rode North on FM 149, hitting the Sam Houston National Forest after a few miles.  The s-curves, and hills, through the pine forest were just fantastic.  We got to the FM-1375 intersection, from where we proceeded East.  DT2.0 started leading the ride now, keeping an eye for interesting fire roads.  After crossing the Northern section of Lake Conroe, we got to Little Rd. Loop.  I must confess that I was a bit hesitant, and looking forward to this at the same time.  I had never taken the big Strom off the pavement for any major distances, and doing this was a small act of faith.  Little Rd. Loop starts out as a red clay road, and while is is mostly compacted because of traffic, there are several points of loose dirt that make the rear tire skid.  It is not necessarily a good feeling, when you are trying to direct over 500 lbs of steel, rubber, plastic, and gasoline.  Part of my brain was recalling a magazine article that said you should go 'no brain, all gas' when riding on dirt.  The other part of the brain was going 'slow, controlled, smooth'.  The latter won the battle over my busy neurons.  We kept at it until we came out on 1375 again.  With a brief sigh of relief, and an increased level of adrenaline, I thought 'Not bad for the first try.  This is actually very cool'.  Now I have done dirt.  I can retire.
Well, not so fast!  We had more to do.  After searching for more roads we got to another turn, and proceeded down this longer stretch of unpaved road.  The large, muddy, puddles were too much of a temptation to resist.  With newly acquired confidence, we were soon riding the bikes into the mud, rather than avoiding it.  The dirt road continued on for a good while, taking us by lake Conroe, with the expected carcass, or two along the way.  Eventually we made to another paved road, but that just did not seem to be a fun option any more.  So we pulled a 180, and back we went for more mud.  As we gained confidence in this new way of riding, we started riding by standing on the pegs, they way real dirt guys do.  But even retracing our tracks would eventually take us back to the tarmac.  So, we had no other choice but to look for more dirt roads.  Yes, we were starting to get the hang of it, and we were having some weekend warrior kinda fun.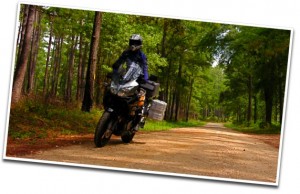 We made one more incursion into dirt, after having lunch, and taking some time to pray, thank God for the blessing of our friendship.  We also talked about the impending trip to Bonneville, making plans for departure, and preparation.  The way back home was mostly a retrace of our ride out.  The Stroms showed us how effective they are indeed on the pavement, and on fire roads.  Along the way, I learned from DT2.0 that if you do not reset your odometer, you actually get more miles per gallon.  An, by the way, the long beaked, off-road helmet, actually performed amazingly as a cruising helmet.  No neck strain, and quiet as a mouse enjoying a good meal at the Parmesan cheese bank in Reggio Emilia.
---
See the post card collection
Comments Off

on Dry Run
:2009, Dirt Road, Forest, Montgomery, Sam Houston, Texas, V-strom
more...