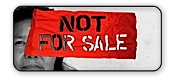 [DONATE]
Please consider becoming a Chains Breaking Chains sponsor.  You can become a prayer and/or financial sponsor.  Financial sponsors can pledge a money (dollars or cents)  for each mile ridden during this trip (about 4,500 miles) or a flat rate.
NO DONATIONS WILL BE COLLECTED THROUGH THIS SITE, AND NONE OF THE SPONSORSHIP FUNDS WILL BE USED TO FINANCE ANY OF THE COSTS OF THIS TRIP.  Once you complete your information, you will be directed to the NOT FOR SALE CAMPAIGN web site to full fill your pledge.
Thank you for considering joining the campaign that has as a goal to eradicate  slavery and human trafficking in our time.
+ + + [ Link to Sponsorship Form ]+ + +