I find myself 2 nights away from this year's trip.  It feels so weird that I am just starting to write about this trip.  Usually I would have been writing and fretting over the journey weeks in advance.  Now, things seem to be more sedate.  I am just wondering if after the Alaska trip last year, everything else will feel like I am just gonna ride around the block.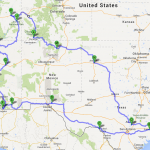 Nonetheless, I am excited.  I have been longing to go back to the desert, where I feel like I find my true self.  Where I feel that my soul finds peace.  I am also excited because, ahead of me are things I have not seen before, with my schedule taking me deep into southern Arizona, and some lesser canyons in south Texas.  I am looking forward to camping in Seminole Canyon, and seeing Tombstone, and staying in Homolovi.  The latter is a park near Winslow, AZ, that even the lady who took my campsite reservation did not know how to pronounce.
I am also looking forward to seeing some of my old familiar places, like Page, AZ, and Moab, UT, where I am hoping to experience some new adventures, like riding downhill on a bicycle, at dawn in Canyonlands.
This year I am traveling with a more open schedule, and even though the above makes it sound like one of my usually meticulous plans, I am seriously leaving with quite an open mind, looking at where the desert wind will take me.
Unexpected for the trip is the fact that I will be, one more time, riding the old 2002 BMW R1150GS.  After the clutch issues from last year, I though I was done with it.  I had actually purchased a 2012 Yamaha Super Tenere that I though would be the war horse, only to be severely disappointed with the ergonomics during a 3-day trip that had me longing for home on day 2.  So, I decided to give the BeMWu one more chance.  I had it checked for readiness a couple of week ago, and it passed.  So, with prayers and fingers crossed I will depart on Friday morning.
Another change is the fact that this is the year in which my departure has been the latest.  I have never taken one of these trips in October.  I do expect to get cold so a new sleeping bag is in order, along with warm camping clothes.
I should also explain why I chose a desert theme this year.  Besides the fact that I find tremendous peace there, I felt that when talking about modern day slavery, we should remember the journey of God'a people through the desert, after they had been set free from captivity.  In this journey of being a part of the fight against modern day slavery, one must draw inspiration wherever one can.  This is what came to me while journeying to and from Alaska, so here I am, remaining faithful to my call.
As I journey, I will covet your prayers for Divine appointments so that I can spread the word about the fight against modern day slavery, or for opportunities to help those in needs.  I will also ask that you pray for safe travels, and a safe return.
Cheers
As always, if you feel moved to do something, please consider making a donation to
[ IJM ] or [The Polaris Project ]