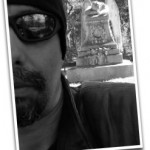 A few minutes ago, I called the Sandia BMW dealership to inquire about the arrival of the parts.  Thank God they did arrive today, and the BeMWu should be ready to hit the road in the next 4 hours or so.  I am still trying to device a route into Houston.  These events give me about 4 hours of riding today, and then I have Saturday, and Sundayto arrive home.
One potential route puts me somewhere between Roswell and Lubbock. From there I could hit Wimberley, TX tomorrow, spend the night with our friends Don and Nan, and have about 210 more miles from Sunday.  It looks like that will be the case.
I spent most of the day yesterday at the Sandia dealership, impatiently waiting for a diagnosis, and then news on the parts.   The problem seems to actually be created by a faulty clutch slave cylinder.  According to the technicians at Sandia, it is very easy to misdiagnose the problem, and to think that water in the hydraulics is the problem.  So the fact that it was missed before was not surprising.
Brooding was definitely part of the picture.  I certainly do not deal well with uncertainty, even though, detailed trip planning had gone out of the window about 10 days into the trip.  I also chastised myself some, since I have openly confessed that I do believe that God has ordered the events along my journey, and the consequences of such order have made themselves manifest multiple times along the way.
Finally, but not least important, is the fact that I did get another taste of the life of the captives, and the enslaved.  Not knowing what your day will bring, not having any control over your situation, and being subject to the whims of others is part of the day to day life of the oppressed.  My situation was not quite the same, but I could certainly taste it, and it was not good.
The later part of the day was spent with Stephanie, and Mark, and their two little ones Ezra, and James.  I got to play basketball with Ezra, who also loves to wear my helmet.  I got to bottle feed James, and we all got to watch Thomas the Train, while a wonderfully, and intense, New Mexico storm soaked the yard.
With the kids in bed, Mark, Stephanie, and I had a great conversation about church, and community, while enjoying a great meatloaf with one of my favorite wines, Malbec.
I must say that these guys are the ultimate in hospitality, and I am tremendously grateful for the time I have spent here.