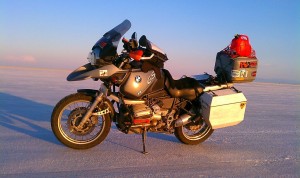 I kept wondering, while I rode today, what the title of this entry should be. In the end I decided on a location related title. The whole meaning of the subject line refers to the fact that I am spending the night in Wendover, NV/UT and will be visiting the legendary Bonneville Salt Flats at sun down. For the uninitiated, this is where year after year, people converge in late summer, and attempt to break the land speed records on cars and motorcycles. It is this motivation that drove Burt Munroe, whose story is told in the movie, The World's Fastest Indian, to travel here from New Zealand, and it is the sight of the Salt Flats that brought me here about 3 years ago, as I recovered from back surgery, and as a testimony of God's grace in my life.
A close second, since this entry recaps another three days, was "Guatemalan Encounters". Two days ago, I left Williams Lake, BC, and headed south to Seattle. I once again marveled as I rode on roads that motorbikers spend their whole life dreaming of. For a good time of the day, I rode this amazing roller coaster that dropped me for more than 1,000 feet on curves that hugged the mountains, split rivers over bridges, and defined forest lines. For the previous three or four days, I had felt like I was riding in the middle of a winter blizzard, as poplar seed float in the air like snow flurries. That day was the last of that. Several times along the way I rode through tunnels. It was a marvelous experience, akin to riding your motorcycle into an air conditioning duct, with psychedelic yellow lights to boot.
By mid afternoon I crossed the border into Washington state, and a few hours later I was in Seattle. That day, after almost eleven months of not having seen her, I got to kiss the forehead, and hug, my daughter Adelina, who had been working as a Fullbright ETA in Vietnam. My eyes were filled with tears, as I finally got to see her. What a joyous, and blessed moment. This, is the first of the Guatemalan encounters, even though Adelina was not born there, but this is her ancestry.
We spent the next day hanging out in Seattle, catching up, and in deep and meaningful conversation. Lets just say that it is tough for a father to accept that his daughter is now an adult, and can, and should, make her own decisions.
We said good bye that night, but my heart is warmed by the knowledge that we will see each other in eight days, when Adelina arrives in Houston.
As I was getting my bike ready, I noticed a man that had been hanging around while smoking. Something lead me to reach for one of the small travel bibles I have in my trunk, and offer it to him. He accepted it with sincere thankfulness. What is more awesome is that he asked me for another one, for a friend of his who would also want one. The light that sprung up in his eyes was deeply moving. I left Seattle yesterday morning, and a misrouting by the GPS took me through the wonderful Seattle botanical gardens. From then it was down south-east through Washington, and into Oregon. The cold from a few days ago got replaced by convection-oven heat. While just earlier in the week I was adding layers to keep the cold out, and riding with a closed helmet face shield to keep my nose from freezing, now I could not remove enough layers, and had to ride with the shield still closed, to keep the hot air from wrinkling my face even more.
As I approached Ontario, Oregon, I was starting to feel worn out, and decided to look for a camping site. The Catfish Junction RV park was just a few miles off the road so I headed there. It was a nice place, close to a river, and the owners were nice and friendly. I pitched my tent under a poplar, and no sooner was I done, than a strong wind started blowing down the mountain. For the first time in this trip I had to use every stake in my kit to make sure the tent would not get blown away. This was quite an entertaining event. I had to grab my MRE, which I had just finished 'cooking' to keep it from being getting carried away by the wind too. I had to do the same with my clothes, and other things around me. On the other hand though, this brought quick relief from the searing heat of the day.
I prepared for sleeping, and for the first time in weeks I did not sleep inside the sleeping bag. It was nice and warm. It was so comfortable that I did not close the tent door. As a result though, this morning I realized that all sorts of spiders, earwigs, leaf hoppers, and other miscellaneous arthropods had also decided that it was nice and comfortable inside my tent.
I packed in record time this morning, and proceeded to Ontario for breakfast. Being Sunday, I spent some time reading the book of Acts, and got on the BeMWu again. My destination, as stated above, was Wendover and the Bonneville Salt Flats. This route took me through Southern Oregon, and Idaho, before I entered Nevada. To my surprise, most of the landscape was dominated by dry, sage brush and desert like vegetation.
Somewhere in Nevada, I passed a pull out where I noticed someone parked with the car door open, and tinkering under the dash. This struck me as odd, and turned around to see if this person needed help. The pull out has a lot of gravel, which was rather unusual. As I got to the car, a guy looked up and assured me he was ok, so I went on. Exiting the pull out proved to be trickier than I thought, as the edge was steep. Before I knew it my rear wheel skidded to the left and I was down on my right, as was the BeMWu. Fortunately it was a low speed slide, and nothing really happened. I did twist my knee and ankle but I soon recovered. Now it was me the one who needed help. I called the guy up, and we managed to get the motorcycle back up. Getting on it and getting it onto the road were something else, and it took quite a bit of wrestling with gravity to finally get it done.
Once I was on the road again, I noticed that the adrenaline rush had caused my mouth to dry. So, I stopped at a gas station to grab a drink, and sat down. A man asked me if he could sit at the table since there was a power outlet there and he needed to charge his cell phone. We struck up a conversation, and soon we switched to Spanish. It turned out he had left New York on Friday, and he was on his way to San Fransisco, where he expected to meet his family, after 14 years of not having seen them. Towards the end he told me he was from Guatemala. Second encounter 🙂
Towards the end of the day today, rode into Wendover from the West. What an amazing view. First I drove down two consecutive 1,000 feet altitude drops, and then, just a few miles from the town, I came up the final approach summit, and after the apex I was presented with a salt lake as far as the eye can see. What a gift.