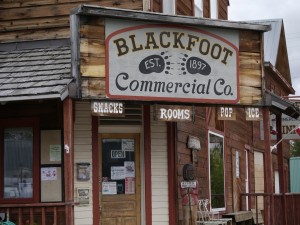 Before going to bed last night, I grabbed one of the travel bibles I carry with me to give to people who might want one. I opened to a Psalm I had not read before. Psalm 140, verse 12 which reads "I know that the Lord secures justice for the poor and upholds the cause of the needy." How true it sounded in the battle against slavery.
The started in my tent in Yellowstone. I had a hard time getting out of the bivouac I created for myself last night. It was cold, and my joints seemed to be frozen. Yet, I eventually unraveled myself out of the sleeping bag and got my packing started.
I left Yellowstone wishing I could have stayed there for a whole week. This place is so gorgeous, and contains such a variety of habitats, plant types, and such rich mineral grounds. My favorites? The wonderful bison, and the amazing aspens.
The route took me to the Northern exit of the park, and before I knew it, I was in Montana. The day was spent on a set of amazing roads which alternated between wonderful straight aways, and long sweeping curves, mated with long ascents and descents. Even though I have often proclaimed that I hate interstates, IH 90 West was amazing.
At one of my fuel stops I noticed a bunch of crows flying overhead. Nothing strange thing there, except tat among them was also a bunch of seagulls. What were they doing so far inland. Honestly, it beats me. But then, as it often happens when I am on the road for so long, it occurred to me that this is the way heaven will be. So many things that we do not see together on earth, will gloriously coexist. Birds of all feathers …
While crossing one of the many forests I went through today, I saw deer twice. Never mind it was about three pm. Didn't anybody tell these guys about deep curfew? They are not supposed to be out there, harassing motorists before early dawn. No biggie, it was great. And then there were the rivers and the lakes, all framed by the frozen peaks of the mountains. Of special notice was Swan Lake, which made me think of Sandra. It is a beautiful and splendid area that is worthy of a vacation.
By late afternoon I approached Whitefish, and the rain clouds that I had been watching all day, finally opened up. This is one of those plan-changers. After riding all day I was not about to pitch a tent on on muddy camp site. So, I ended up in a nice, dry, and warm motel room.\
I met my neighbors, who offered me coffee as I was moving my stuff into the room. The gentleman has been an antler and bone artisan for most of his life, creating jewelry which he sells in …. Alaska. Great conversation.
Later, on my way back from the Chinese restaurant where I had dinner, I met Andy. He approached me when he noticed the take-out box on my hand and was about to recommend a BBQ place here. We started talking and I explained to him why I am riding. This lead to a faith conversation and how he was looking for God's call in his life. Andy is going through Bible college, and is working as a vegetation control specialist working on keeping railroad lines and crossings clear. The conversation with Andy really made my day.