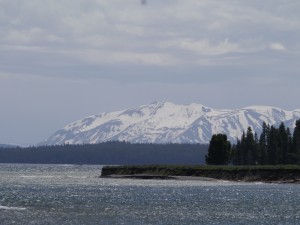 Yesterday morning I woke up at 7, in a nice and comfy bed in Denver. I expect that this was the last bed and roof I will see until I reach Fairbanks. Valerie and Neal had a very nice breakfast for me, and before I left, Valerie took the time to write "2EndSlavery, Texas 2 Alaska, on one of my saddle cases." We said our good byes, and I was on the road. I took IH25 N, towards Wyoming, instead of the 287, because of the concerns from the huge forest fires in the Fort Collins area.
It was a glorious day to be riding. The sun was up. Not a grey cloud in the sky, and the temperature could not be better. The projected 500+ mile route would take me up to southern Wyoming, and then I would turn West on IH 80, and finally head North towards the Tetons and Yellowstone.
All was going great until I crossed into Wyoming. It was as if someone turned a swith. The minute I entered the state and started heading West, winds started hitting me with fury. Signs on the road warned of 35+ mph gusts. Riding above 50 mph became a luxury, and eighteen wheelers became my friends. Every time one passed me on the left lane a got a nice shield, and therefore a brief moment of rest. But try as I mightI could not keep up with them and so, soon the battle to keep the motorcycle on straight line would resume.
My neck and shoulders started to hurt under the strain. The problem was getting agravated by my helmet, which had a beak that should keep the sun from my face. At that time, it was working more like a sail, pulling my head and litteraly smashing the helmet onto my left cheek.
At some point I reached the Lincoln Monument where a visitor center is located. There, a trucker told me that things normally only get worse towards Laramy. However, the attendants at the vistor center had different news. The wind should be decaying as I moved West. Futhermore, once I turned North at Rawlins, it would all be good.
As it turned out, they were all wrong on all accounts. I made it all the way to Rawlins with pretty much no change. By then it was noon and I still had about 350 miles to go to the Yellowstone East Park entrance. Things did not improve on the Northern road. So, at some point I pulled to the side of the road, and pocket knife in hand, proceeded to do a beekerectomy. It was amazing how much this helped. Not having a sail attached to my head increased the control on the bike and reduced the stress on my body.
Just before Lander the wind dies off. The road started winding down, with beautiful red rocks on the sides. Oh what a joy. This is what riding should be like, all the time. I was enjoying myself, finally, after hours of nothing more than trying to stay on the tarmac strip. Coincidentally, at some point I looked down at my speedometer, just to see it go from 65 mph to 0 mph. Plunk. From there on, all speed, and distance information are to be provided by Mr. GPS.
The wind did pick up at some point, but things were not as bad as earlier. Eventually, I made it to the Tetons. I rode into the park, crossing it towards Yellowstone. The entrance into Yellowstone is absolutelly gorgeous, with aspens and pines lining the road, and large drops into beautiful, foamy rivers. I reached the Yellowstone entrance at 8 pm. Twelve hours after departing I was there. Or so I thought. Upon consulting my papers and the parks directions, I still had 66 miles more to go. At 45 mph speed limit in the park, that was another hour and a half. I really felt I did not have it in me. But there was not choice.
With the sun creating wonderful fiery skies, and reflections of streams and pools of water, I rode into the park and headed to my camp site. While the day was streneous and pushed me to my limits, I was feeling the glory of his creation as I rode. At some point I managed to see two young elks, their antlers covered in fuzz, grazing by the side of the road.
By ten o'clock I had finally made it to the campsite. I pitched my tent, and managed to get to sleep by eleven thirty.
While I rode through the wind earlier in the day, I had this anger in me, feeling cheeted because I could not enjoy the unique landscape I was riding through. Once the wind ceased, it was as if I was in another reality. Beauty was sttreaming all around me, and the glory of creation was there to be embraced. It was at that point I though about the captives, and the enslaved. When opression and cpativity make your life such a struggle, such a battle, the soul and the mind have no time, nor the ability, to embrace creation. This is what I hope we, as abolitionist, can bring to people.
Today was a day to rest a bit and enjoy. I spent it riding through Yellowstone, catching bisons on 'film' and talking with people here and there. This majectic place merrits another visit.
Funny anecdote of the day was provided courtesy of these to cute Japanese girls, who, when they noticed I had caught them sneaking a picture of me had to say, "Sorry, to cool" 🙂
Miles covered by today, 1698