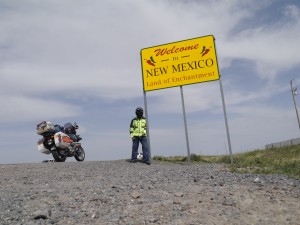 The day started early in Amarillo. Don, Mel, and I were up and ready to go at the agreed time. Before leaving the KOA, we noticed that the people who had spent the night at the cabin next to ours had a jeep, loaded with fuel canisters and all kind of boxes. Further, they were dragging a large trailer. So, we had to ask where they were headed. To our surprise, they are headed to Alaska. They are from San Antonio Texas, and the lady was moving to a small town on the Alaska coast to become a school superintendent there. What a coincidence. After a nice chat, we were ready to get on the bikes, when the couple from the other side of our cabin came over to talk, and she shared that she had move to Houston from Fairbanks, Alaska. Now that was some kind of odds at play.
We quickly headed up to breakfast, and then parted ways after prayer. Don and Mel, heading back to Houston, putting a whopping 1,200 miles on the odometer in two days, and me to Denver.
My ride took me through Dumas. A nice sized town that I always mean to visit when I am in the area, but I always end up just driving by, because of time constraints. It seemed that the whole town was getting ready for a parade, as young and old had started lining up the sides of main street with lawn chairs and Radio Flyers.
I continued on, riding through a number of small towns, until I made it to Texline, and shortly there after, the Nex Mexico border. As it happens every time I head West, the appearance of the mesas in the landscape brought me great peace. There is something about the New Mexico landscape that just clicks with my soul.
Peace was a little bit short lived. At some point, the sign announcing that Raton was ahead, brought back memories of some nasty cross winds I had experienced in that area a few years ago, on my way back from the Bonneville Salt Flats. Today would be no different. For miles on end, gusts of wind started whipping my ride from the right. Even the fully loaded BeMWu, weighing in at more than 600 pounds was forced to engage in a nerve racking slalom. At some point I came up with the idea that leaning the bike into the wind was not enough, and that shifting my weight to the side from which the wind was coming would increase traction on that side, stabilizing the ride. The trick seemed to work quite well, so here I was, riding with my right cheek hanging in mid air, like a weird Valentino Rossi on an adventure bike.
I finally made it to Raton, where I stopped for lunch. It seemed like all boy scout troops in the country were there, on their way someplace else, and so the lines for a simple burger were kilometric. Yet, I needed the rest, so I waited with the rest.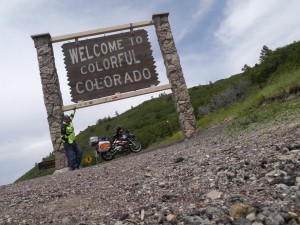 After lunch I turned onto highway 25 north, and headed for Denver. While this is an interstate, it is still a pleasure to ride, as it cuts through mountains and snakes down valleys, reaching over 6,000 in elevation. Soon I reached the Colorado border, and after taking the mandatory border crossing photo, I noticed the lead-colored clouds ahead of me. I prepared as best I could and continued on North. Every time I thought I would encounter rain, the road would turn ever so slightly, keeping me away for the storm. I skirted this atmospheric chaos for a couple of hours, and in the mean time I saw sign warning of a major disaster 25 miles ahead and to expect serious delays. Sure enough, 25 miles further, the traffic that had been freely flowing came to a stand still. Another biker, on a trail Kawasaki told me that a car had spun and flipped ahead, and that the extraction process was a mess. He suggested that we could go around by going off road. "Yea, off road with a 600 pound bike!". Not a chance. Fortunately traffic started moving. Slowly at first, but then a bit faster. Unfortunately, this brief delay gave the storm a chance to catch up with me, and it did so with a vengeance.
The road was soaked immediately, and wind gusts that I guessed were about 30 miles an hour started hitting me from the left. This time, leaning the bike to the left, with a hanging left cheek was only marginally helpful. A few Our Father prayers escaped my mouth. I was being pushed towards the right side of the road, with such ease, that it was really scary. There was no real place to take shelter, and with wide load trucks coming down the highway, the should was not a good place to stay. So, like we say in Guatemala, I made heart out of guts, and pushed on forward. Thankfully, it took me about 6 miles to get out of that mess, and from there on the road was clear, and the sun began to shine. One of the most amazing sight followed.  The clouds in the horizon to my left started to layer.  For a moment I was speechless. I was at a loss for words, until U realized that the sky had turned into a giant dome of mother of pearl.
I arrived in Denver at about 5 pm, at Neal and Valerie's house, who, along with Madeline and their dog Lucky, are hosting me tonight.
After a wonderful dinner with shrimp, guacamole, pico de gallo, and carrots, we had a wonderful conversation. I heard about their wonderful trip to England, and, over home-made chocolate chip cookies, we talked about the complexities of fair trade marketing and ethical purchasing.
A day full of adventures it was, where I revisited rides on a leaning bike, and tried to skirt a storm without touching it.
Miles so far, 1,043.5. Tomorrow, Yellowstone, and over 500 more, God Willing.