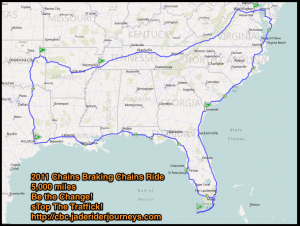 By reading the title, you probably do not have an immediate picture of what I mean.  I certainly would not blame you since I, myself, sometimes do not know what I mean.  The 4 sides of the United States that I am envisioning are: 1) the Gulf Coast, 2) the Atlantic Coast, 3) the Pacific Coast, and 4) Alaska.  Yep, the last one does not quite fit the pattern, but it does have a coast, and as it turns out it has 7 bodies of water surrounding it: 1) Arctic Ocean 2) Pacific Ocean 3) Bering Sea 4) Beaufort Sea 5) Gulf of Alaska 6) Bristol Bay 7) Chuckchi Sea.
But getting back to Riding 2 of the 4 Sides, I am referring specifically to the Gulf Coast and the Atlantic.  Doing the 4 sides is such a big undertaking, that the rest will have to wait for next summer.
More importantly though, is the why?  Simply put, the prevalence of slavery in modern times is so outrageous, that doing nothing about it is not an option that is available to me.  With 27 million people enslaved world-wide, many of them in the United States, action is demanded from us, regardless of our creed, political beliefs, or station in life.  Those that know me, are aware that I have dedicated a lot of my time to doing something about this issues since February of 2010.  Besides speaking publicly, writing to public officials, campaigning, and ministering to victims of modern day slavery, I came up with the idea that as bikers we can ride with a purpose that reaches beyond our self centered enjoyment.  Last year I transformed my yearly motorcycle ride into a fundraiser for the NotForSale Campaign, an world-wide organization dedicated to raising awareness, support, and providing aftercare for victims of modern day slavery.  I rode from Houston, TX, to Death Valley, CA, spreading the word, leaving markers along my route that directed people to the NotForSale web site, and raising funds.
This year, I am back.  On September 3rd, I will take off on a two-week, 5,000 mile ride, from Houston to Key West, to Washington DC, traveling along the cost lines, and then back to Houston, cutting through the country.  Last year my goal was small; raise $2,700.00 for the NotForSale Campaign.  This year, I am more ambitious.  I want to raise $5,700.00.  I am also expanding the beneficiary options: I want to help NotForSale, and I want to help Redeemed Ministries, which is an organization that works with victims of sex trafficking in Houston, my home city.
Here is how you can help:
You can pledge financial support
You can spread the word, and share this message with 27 of your closest friends, getting them to commit support and tell 27 more.
Please notice that all funds will be paid directly to NotForSale and Redeemed Ministries.  When you complete the pledge form you will be taken to their respective donation pages, and not a single penny will be processed through this site.  I will finance the cost of the trip, and all pledges go directly to these organizations.
Thank you for your support.  Stay tuned